Need a little encouragement? Take a group class!
First of all, we want to remind everyone that FITLAB features over 100 group fitness classes per week led by world-class instructors.
Why should you try one of our group classes ???
Group Fitness Classes are a great way to add variety to your workouts and really boost results.
The instructors keep things fresh and fun with variety of classes to choose from every week.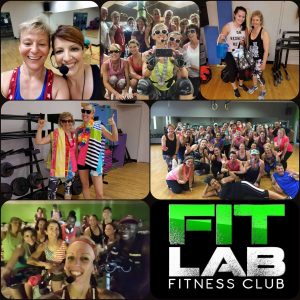 At FITLAB we always encourage you to try something new! Try spinning, yoga, cardio boxing, strength, conditioning, barre, dance, pilates and more! Our schedules are filled with classes each week and they're all included with your FITLAB membership.
In addition, here is a list of all weekly classes by club. We hope to see you in class soon!
MERRIMACK GROUP CLASS SCHEDULE 
MANCHESTER GROUP CLASS SCHEDULE 
GOFFSTOWN GROUP CLASS SCHEDULE 
Finally, we also like you to meet the Group Fitness Director- Kris Girouard.
Kris's education and practical experience in the fitness industry spans over 25 years and includes: leading many different types of group classes, providing a mentor program for all instructors on her staff, is a Master trainer for ISCA (International Sports and Conditioning Association) providing accredited training for Kickboxing, Pilates, and Group Fitness certifications. Kris creates a climate within the group fitness space where all members feel welcomed and part of community where they can reach their fitness goals. She mentors her entire staff to be the best they can be by staying educated and giving the members the best group experience in the area. Success through group fitness, one great class at a time.
Do you need to more Group Fitness info?
Visit the Group Fitness Facebook Page and message the Group Fitness Director.